The fresh milk you love, now in bottles!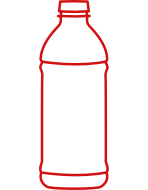 Light-blocking bottle & cap
Our innovative packaging seals in the freshness and keeps out UV and Visual spectrum light, 
so you can enjoy that pure, farm-fresh taste.

Easy to pour
Thanks to our new ergonomic, easy-to-handle bottles made for young & old, you won't miss out on a single drop of flavour or nutrients.

Resealable
Our new resealable bottles mean you can take your time enjoying the great taste of Lactantia.*


*For optimal freshness, all milk should be consumed within 7 days of opening.

BPA-free
Lactantia bottles are BPA-free, so you can enjoy the dairy you love 
and get the peace of mind you need.

Recyclable
We're dedicated to making quality dairy products while minimizing impact to the environment, 
so our new bottles are made of recyclable PET material.
Explore all the ways you can enjoy Lactantia with our new resealable bottles.